NO CAPITAL, NO INNOVATION
The good news is that 40% of healthcare inventions originates in Europe. However, only 10% of capital is available for early-stage innovations.
What keeps these investments behind?
Established funds choose to invest mostly in later-stage innovations.
On top of that, smaller investors cannot fill the early-stage gap as they do not have the industry access or expertise to invest in single early-stage ventures without running too high a risk nor do they have the financial resources to build a solid portfolio of ventures.

Innovation is there, only capital is missing to bring it to the market.
Limited resources, shortage of healthcare professionals, lack of medical and technological solutions. Pressure is mounting on hospitals, economies and, above all, patients.

We need to provide for an ever-growing number of patients. We need to optimize diagnosis, treatment, and risk prevention. We need to positively impact patients' lives and advance healthcare systems around the globe.
What is the optimal solution to solve these challenges?
Innovation.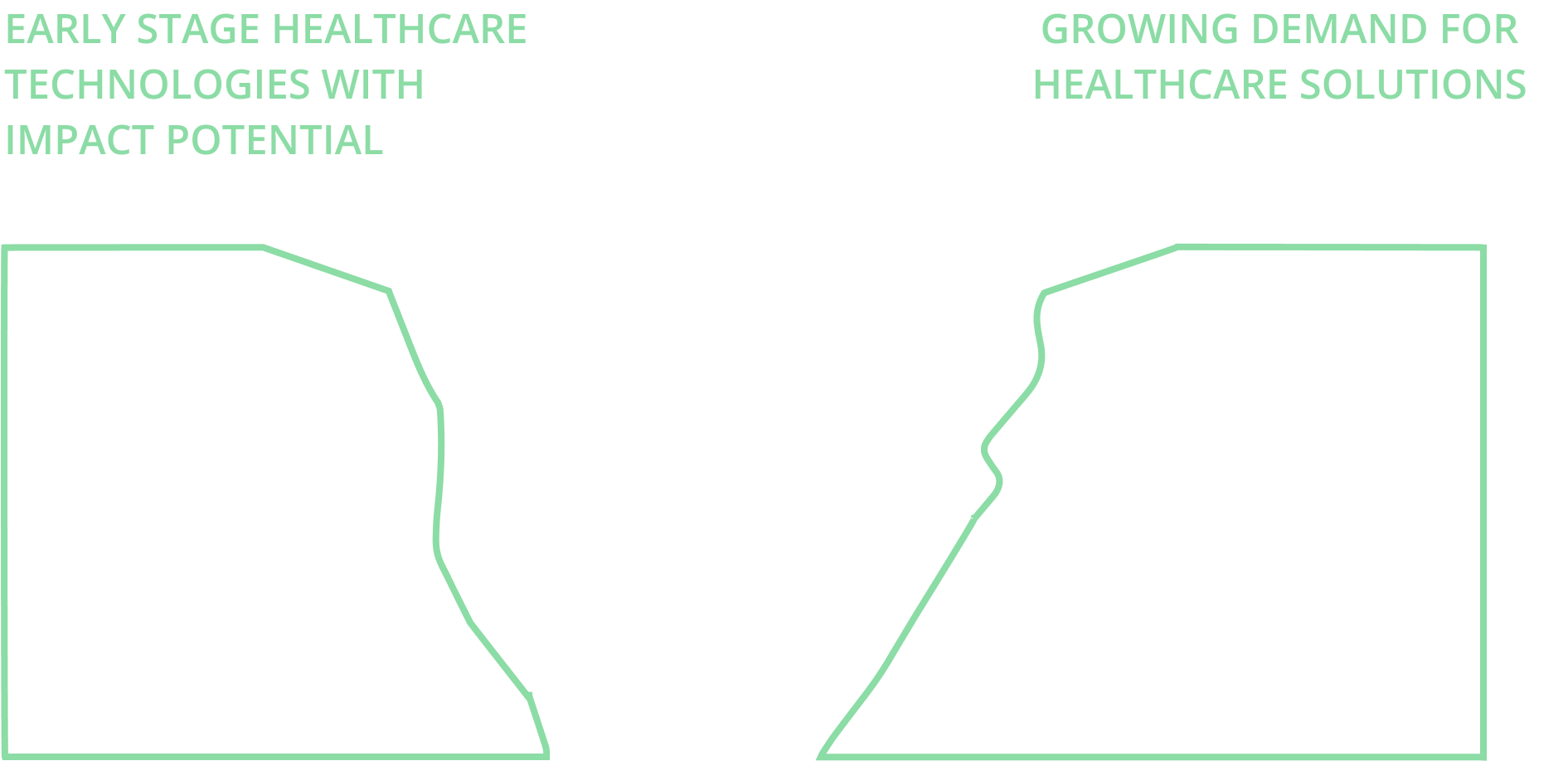 NO INNOVATION MEANS NO SOLUTIONS TO THE BIGGEST HEALTHCARE GAPS
Download our insights into how healthtech innovation addresses challenges in the fields of cardiovascular diseases, cancer, healthy aging, and neonatal care.




HEALTH IMPACT FUND: BRIDGING THE GAP
NLC's Health Impact Fund is our latest flagship fund that aims to bridge this widening healthcare gap between innovation and the market. With a target size of €100 million, it will invest into a highly diversified portfolio of over 80 NLC ventures.
Actively managed by NLC's Fund Management (FM) team, the Fund will invest from the pre-seed stage when value creation and return potential are the highest, with the potential to allocate up to €9m per company in follow-on financing for the most successful ventures up until Series A and Series B.
Our Health Impact Fund is the most diversified early-stage opportunity that addresses a major societal problem.
The FM and the Health Impact Fund are registered with the Dutch Authority for the Financial Markets (AFM).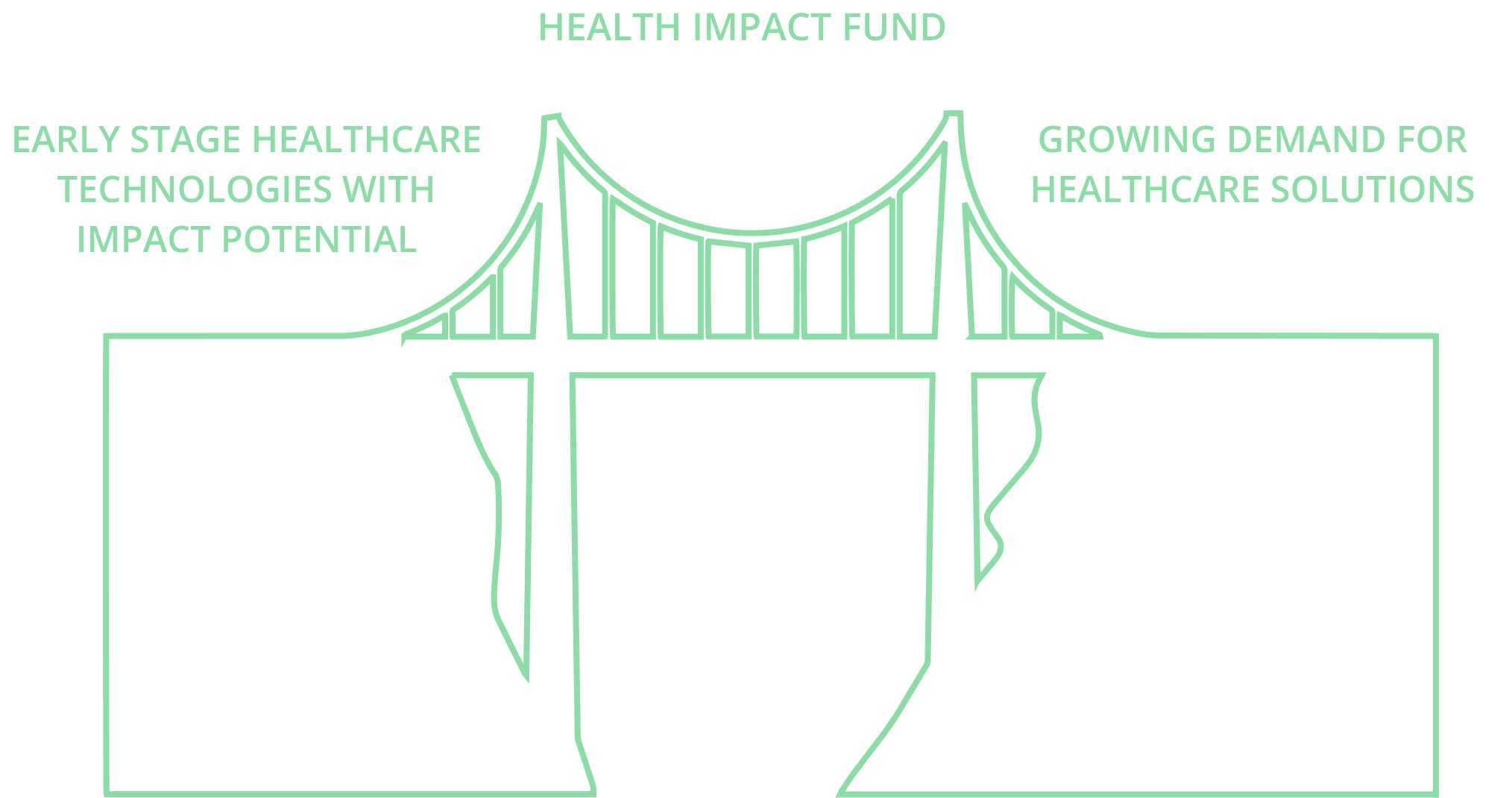 4 REASONS WHY YOU SHOULD NOT MISS OUT
NLC is a certified B Corp and supports UN Sustainable Development Goals 3, 9, and 17. The Fund adheres to the highest possible impact standard (SDFR 9). The Health Impact Fund can be your pathway to high-impact capital deployment.
2. High diversification and early exits
With a single investment in the Health Impact Fund, you gain access to a diversified portfolio of more than 80 NLC ventures. The ventures are based across Europe and the US, in the fields of medtech, biotech, digital health and green health, and have different maturity levels. This diversification across various dimensions mitigates the downside risk, while maintaining the upside potential. Investors can also opt for early exits.
3. Deal flow: secured, vetted and transparent
Investing in the Health Impact Fund means investing in NLC ventures. With more than 80 healthcare professionals, NLC has a proven track record of vetting, selecting and building over 100 ventures in the last 7 years, 22 of them in 2022 alone.
4. Immediate capital deployment and optimal capital allocation
Once the Fund goes live, it will immediately deploy €15 million in a subset of 16 NLC ventures. This subset of ventures is clear from the outset and can be reviewed by investors. Furthermore, the co-investment structure of the Health Impact Fund ensures that the fund is able to 'follow the winners' as capital will be allocated to the most successful ventures in NLC's portfolio.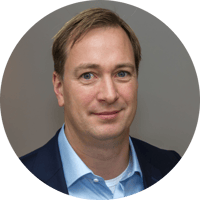 Peter Veldman
Chairman of the Investment Committee
Peter has joined NLC in July 2023 as senior advisor and has subsequently taken on the role as Chairmen of the Investment Committee. Prior to joining NLC Peter has been active in the fund management industry over 25 years, starting at ABN AMRO, followed by Cyrte Investments and most recently at EQT. Peter brings extensive experience and a strong track record to the team.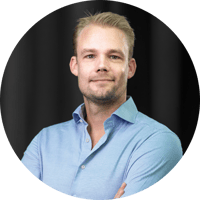 Hidde ten Brink
Investment Director + Investment Committee
Hidde joined NLC in April 2019. He has extensive experience in mergers & acquisitions, corporate and structured finance, company valuations, debt advisory, venture capital and treasury management. He gained this experience at EY's M&A department, at Zanders, as well as at an Amsterdam-based M&A boutique. Hidde uses this experience to help NLC's ventures with finance-related issues throughout their lifecycle under NLC's management, ultimately leading to achieving successful exits and maximising the ventures' positive impact on society.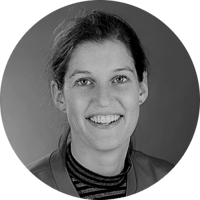 Johanneke Maenhout
Portfolio Director and Investment Committee
Johanneke joined NLC in November 2016. She has over a decade of experience in strategic and operational health care consulting and health economics and is interested in accelerating the role of technology and innovation in improving health(care). At NLC, Johanneke is responsible for our the strategic development of our portfolio with specific focus on impact, alongside financial value and risk management. As part of this role she has a seat in the Investment Committee of our Health Impact Fund.
KEY CONSIDERATIONS


As with all investments carrying risk, the value of your investment in NLC and its Health Impact Fund could be lost, in full or in part due to unexpected developments. Some of the key risks are listed below. Prospective investors are advised to consult the Information Memorandum of this Fund.
Restricted tradeability



As a closed-end fund, the interests are not freely tradeable. If an investor wishes to sell their Fund holdings before the end of the 10-year term, their obtained returns might be negatively affected or the interests might not be tradable or will only be tradable to a limited extent because of lack of another person acquiring their interests. Investor could, thus, be bound to this investment longer than expected or desired.
Start-up risk



The Fund invests in healthtech startups, which are inherently of high risk. Several of the portfolio companies in which the Fund will invest will not be able to turn their current projects into fully commercialized products certified for medical use, negatively affecting the value of the investment.
Market risk



Many of the portfolio companies are projected to need one or more follow-on financing rounds to successfully launch their product on the market. While the Fund itself can, in most instances, also provide this follow-on financing, such investments always need to be matched by external investors. If the portfolio companies are unable to secure this funding, it might lead to a delay or a lack of sources to continue the developmental trajectories of one or more portfolio companies.


The Health Impact Fund is currently only accessible to investors residing in the Netherlands. Pending approval of the Fund's EuVECA application, NLC will offer this investment opportunity to investors across the EU Member States at a later time.
Investors acquire interests in the Health Impact Fund and not direct ownership in any underlying asset in which the Fund invests. No leverage is used at the fund level.

This webpage is a marketing material which has been prepared by NLC Fund Management B.V. ('NLC') with the purpose of sharing relevant information concerning the funds under their management. It does not constitute an offer to sell or the solicitation of an offer to buy the securities described herein, which will only be made by means of an information memorandum and/or subscription documents. You may not rely on this webpage as the basis upon which to make an investment decision. This webpage does not purport to be complete on any topic addressed. NLC has not verified or analyzed the information included in this webpage for accuracy or completeness. NLC shall not bear any liability for the information contained in, or any omissions from, this webpage.